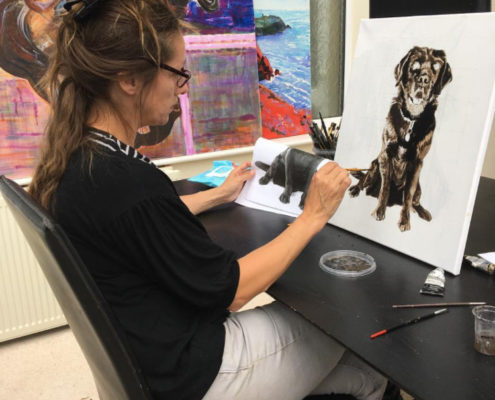 Sam loves nothing more than accepting painting commissions and has made it a simple process for everyone. Commissioning a piece of art is a great way to introduce original artwork into your home. Pet portraits and local landscapes make great gifts in smaller sizes. Larger commissions allow you to enjoy much more than a photograph and complement the unique style of your home.
Sam prefers working with oil on canvas, using bold colours and backgrounds. When requested, she digitally edits them to help capture personalities or moods. There are no constraints to Sam's creativity. She will happily paint any subject, or even work with you to create something truly unique. Her contemporary style allows her to create mythical creatures based on real animals, such as her unicorn collection.
Sam typically works from photographs. She will ensure that you are involved throughout the process so you are happy with the finished piece of art.
Sam is happy to work with corporate clients to produce bespoke stationary, cards and other gifts.
All painting commissions are bespoke therefore are sized and priced individually based on the scope of work and complexity of art techniques involved. You will be involved throughout the whole creative process to ensure you get the artwork you desire.
What size?
Painting commissions can be done on any size canvas you wish! Sam will discuss options and prices with you to make the decision as easy as possible.
How much will a commission cost?
As a guide, our popular canvas sizes are priced as follows:
25cmx30cm from £150
30cmx40cm from £300
40cmx50cm from £450
50cmx60cm from £600
100cm and over from £1000
All commissions require a non-refundable deposit and are subject to full terms and conditions (please see below).
Please check Instagram and Facebook for any up to date offers.
How long does it take?
Depending on the size and scope of work involved, commissions typically take 4-6weeks to complete. However, please note Christmas time is especially busy for commissions.
Supplying Photographs
Please note the quality of the painting products will reflect the quality of the photograph you supply. It is the client's responsibility to provide accurate and appropriate pictures that demonstrate a true likeness.
You don't need to hire in a professional photographer! Patience and plenty of photographs is enough to work from. Digital photographs are acceptable.
Things to Consider
Now you have decided what you would like painted, here are some useful tips before placing a commission;
Where will it be hung?
How much space do you have will influence the size of canvas
Do you have a colour/theme in a room you wish to incorporate into the painting?
What elements of personality do you want captured?
If you are interested in commissioning a piece of art, please get in touch!