Samantha James – Contemporary Artist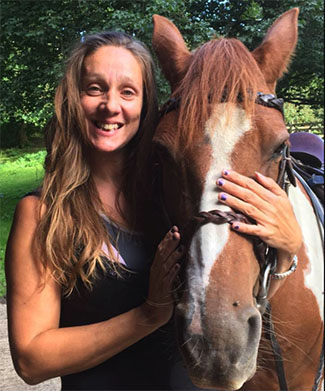 Born in South Wales, Sam's childhood was spent growing up in the picturesque Monmouthshire countryside, surrounded by nature and animals.
Painting is in Sam's blood, her father Richard Wills, who is also a successful artist, encouraged and inspired the family to explore their individual creativity. For Sam this came naturally, under the watchful eye of her father she began to express her love of nature and animals especially horses. Growing up immersed in a world of art and watching her father paint daily, Sam's style reflects a life time of passion with a contemporary flair that takes years to master.
"My father has always been my inspiration and I am lucky enough to have the opportunity to work alongside him and share in his knowledge and expertise."
When Sam wasn't painting, she was riding horses and helping the local farmer, often painting the animals and landscapes when they captured her imagination.
Sam attended the Welsh College of Music and Drama, earning a graduate diploma in Theatre Design, before leaving for London to work as a teacher. Here she used her creative talents to inspire children of all ages. After nearly twenty years, Sam and her husband relocated the family to Regency Cheltenham, in the heart of the Cotswolds, enjoying a more relaxed pace of life and giving Sam the freedom to paint professionally.