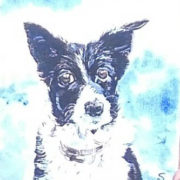 Sam has just finished an oil painting of Sky my 10 year old border collie. Sky shows every emotion in her eyes, and Sam has captured the look perfectly. What a stunning painting! We are really pleased! Thank you very much Sam. It's fantastic!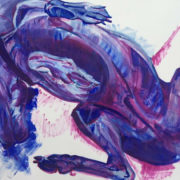 Freud is a Weimaraner and he is gorgeous and energetic and really, really naughty.  I asked Sam to do a painting for me and gave her a photo of him scratching his back.  I never expected her to do it in purples but I absolutely love it. Somehow it captures his personality perfectly!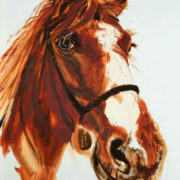 Just wanted to say thank you for my lovely painting of the pony you did for me. I love it.  I think you really have to know and love horses to capture their personalities and you clearly know and love horses.  I could not have asked for anything more!
Thanks again!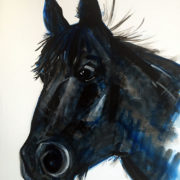 Samantha James did a fabulous portrait of my pony Cracker and I highly recommend her!!!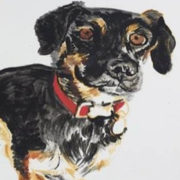 If you are looking for a local artist then look no further than the lovely Samantha James!  She has produced this beautiful piece for my goddaughter of Clay, her dog.  We both are so pleased!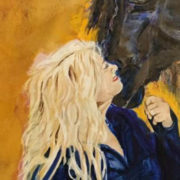 The special surprise is finally unveiled! A big thank you to Samantha James who did a wonderful oil painting for me capturing Sara and her favourite Friesian.  It captures both of them beautifully and we are so pleased.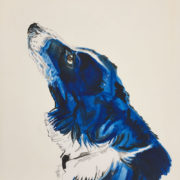 Just love the two paintings Sam has done for me featuring my very eccentric mule and Clover, our much loved border collie. Clover has a phobia with cameras so it's wonderful to have a painting that captures her character in a way a photograph never would.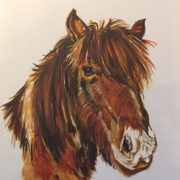 Samantha has an outstanding eye to catch the character and cheekiness of each animal she is painting. She painted my two lovely Icelandic horses and they are so good you can actually recognize the animals in the field.
Thank you so much for that, Sam!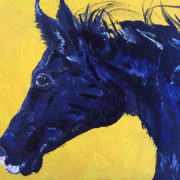 My favourite colour is yellow and I love horses – that was the brief that I gave Sam.  And its perfect!  Thank you so much!  I have hung it in my bedroom and it really adds a pop of colour.  It looks great!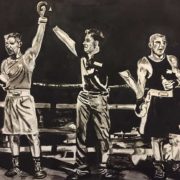 I was looking for something extra special for my husband's birthday gift and to be honest he had enough clothes and aftershave so I wanted something that really meant something to him. He took part in a armature boxing event which completely changed him inside and out so I knew capturing that moment would mean so much to him.
When I stumbled over Samantha's work on Facebook, I knew I had to have her paint a picture of that moment my husband was pronounced the winner of his fight. So I contacted her and she was ever so professional, friendly and very warm. I collected our canvas after a few weeks and I was shocked on how much it looked like the photo I provided.
Seeing my husband's face on his birthday was the best gift to me. It actually brought him to tears. Now it hangs proudly in our living room.
Thank you so much Samantha we are hugely grateful!