Samantha James – Contemporary Artist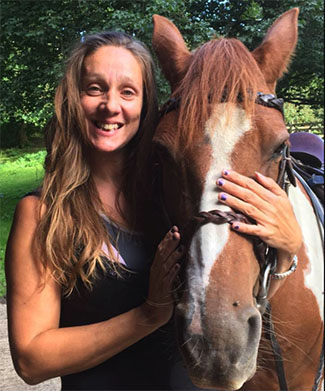 Born in South Wales, Sam's childhood was spent in the picturesque Monmouthshire countryside. Riding horses from a young age and helping the local farmer, she fell in love with nature, animals and the beautiful British landscape.
Sam's father, Richard Wills, is a very successful contemporary artist so painting is in her blood. She grew up immersed in a world of art, watching her father paint daily, and she was encouraged to explore her creativity and develop her own style to represent the world around her.
"My father has always been my inspiration and I am lucky enough to have the opportunity to work alongside him and share in his knowledge and expertise."
Sam earned a graduate diploma in Theatre Design from the Welsh College of Music and Drama before leaving for London to work as a teacher, where she used her creative talents to inspire children of all ages. After nearly twenty years, Sam and her husband decided to relocate the family to Regency Cheltenham, in the heart of the Cotswolds, to enjoy a more relaxed pace of life.